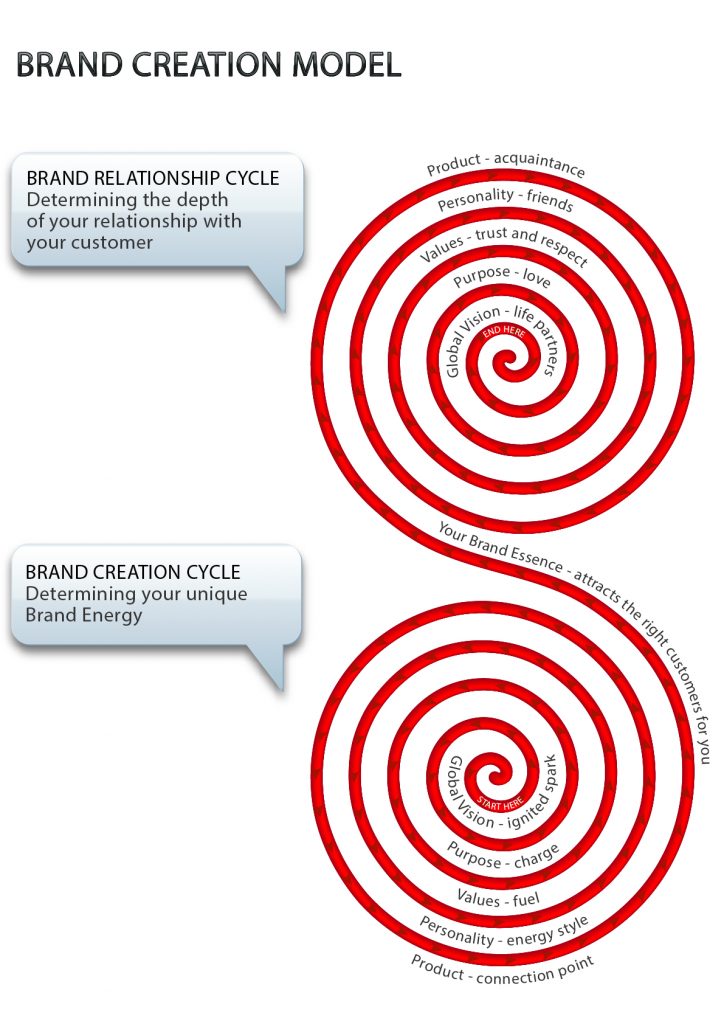 Successful business relies on successful relationships, would you agree?
If yes. Then what is the first thing you need to understand to have a successful relationship?
You need to understand who you are.
Because who you are is the first value of any relationship.
Your relationships start with you.
Whether you are a solopreneur, a small team, or a large corporation.
You are, who you represent as a brand.
So, who are you?
You are a lot of things, a combination of many parts.
That is why, the multi-layers of who you are as a brand is hard for many businesses to define.
A strong leader may present what the brand is, but that may not be the experience of the team.
When I facilitate my process with teams, I often find that individual team members have a different perspective as to who the business is and what it does.
My process Creating Brand Energy – suggests there are 5 key elements that collectively and uniquely define who you are as a business.
1. Your Global Vision – Or Big WHY – What impact you want your business to make in the world.
2. Your Purpose – or Personal WHY – How you want customers to feel about the experience of your brand?
3. Your Values – or Big HOW – What values fuel and protect your business and brand.
4. Your Brand Personality – Or Personal HOW – what style of connection you want to make with your relationships.
5. Your Product – or Personal WHAT – Your connections points. Your value exchanges.
These key elements once defined are unique to you and the combination of these elements create a unique alchemy and differentiation for your brand.
When you collaboratively define and agree on these elements and their meanings, you have the guidelines to operate your business in a personalised, authentic, consistent, and differentiated way.
A way that no one can copy because they are not you.
Successful business relies on successful relationships and that includes the relationship you have with these elements.
These elements fuel and charge each other and can be expressed in unique ways that positively contribute to your brand.
It's not just about having values or a purpose, it's about having the complete set of these elements and understanding how they align with and fuel each other.
These elements when activated, help you do business in a way that is true to who you are (who you all are) and in a way that simultaneously and holistically strengthens your value offering, brand and relationships with every activation and expression.
Successful business relies on successful relationships internally and externally and it all starts with you.
Understand the unique layers of who you are so you can do business better.
X Cath
Conscious Business
Integrate your truth
Cath Sutherland is the Director of Conscious Business – helping businesses to understand who they are, so they can do business better. Cath facilitates teams and leaders through her unique Creating Brand Energy process to develop, through collective consensus, their unique Conscious Business Blueprint – a clear, multi-level guide to manage, direct and develop relationships, operations, and product delivery. Cath can be reached at cath@consciousbusiness.net.au